Important
You are browsing the documentation for version 4.2 of OroCommerce, OroCRM and OroPlatform, which is no longer maintained. Read version 5.1 (the latest LTS version) of the Oro documentation to get the updated information.
See our Release Process documentation for more information on the currently supported and upcoming releases.

WYSIWYG Editor
The WYSIWYG editor feature is implemented by Oro applications to help you control the content of your HTML-like web pages within your website. It is an HTML page builder that helps you create a complex and attractive content with cutting-edge default and third-party widgets, embedded videos and pictures without any coding knowledge. Preview functions enable you to optimize the page for mobile and desktop formats before you publish.
The WYSIWYG editor integrates the GrapesJS framework out-of-the-box. The framework provides multiple advanced capabilities for creating dynamic templates and HTML structures.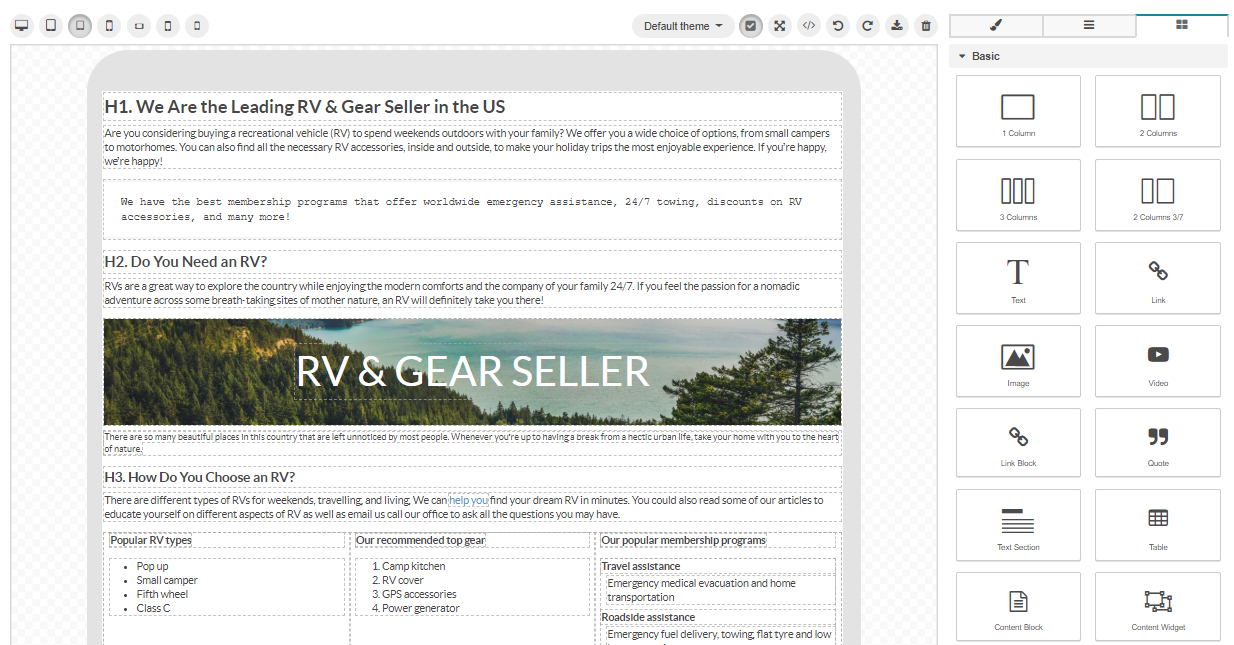 WYSIWYG Manager Blocks
The power of WYSIWYG is in its functionality that provides you with diversified tools to manage the content of the web pages within your website.
The main parts of the editor help define the interface and the structure of your templates and are responsible for different aspects of your work with WYSIWYG:
Canvas — A field with the appropriate HTML-like content to be displayed in the storefront. Within the canvas, you can move, copy, or delete the components, and format the text inside blocks.

Blocks — A group of various blocks that you can drag and drop to your canvas shaping the desired content. A block can be either a text, a multi media file, a table or a column. You can also embed a piece of code, any default or third-party widgets, insert a link, a quote, or add a button. The basic set of blocks can cover most of your needs.

Style Manager — A group of settings that are used to customize the content blocks added to the canvas. Within the style manager, you can assign a selected CSS class to certain blocks, provided that the necessary class is specified in the file of css styles linked to the main website template. You can also set the alignment of the blocks against other content, set margins, paddings, fonts, and colors, scale and rotate the text, as well as apply other transformations to the selected content structure.

Layer Manager — A tree of used blocks structured in the order they are allocated on the canvas. To shift the order of certain blocks, click next to the selected block and drag it to the required place. You can also hide selected blocks, instead of deleting them, by clicking to the left of the block name.
WYSIWYG Functions
WYSIWYG enables you to do the following: