Message Queue¶
The OroMessageQueue bundle integrates the OroMessageQueue component. It adds an easy to use configuration layer, register services and ties them together, registers CLI commands.
The MessageQueue component incorporates a message queue in your application via different transports. It contains several layers.
The lowest layer is called Transport and provides an abstraction of transport protocol. The Consumption layer provides tools to consume messages, such as the cli command, signal handling, logging, extensions. It works on top of transport layer.
The Client layer provides the ability to start producing/consuming messages with as little configuration as possible.
Structure¶
Publish/Subscribe Messaging¶
OroMessageQueue uses Publish/subscribe messaging. It means that the sending application publishes (sends) a message with a specific topic and a consumer finds a subscriber(s) for the topic. Publish/subscribe messaging allows decoupling of the information provider from the consumers of that information. The sending application and the receiving application do not need to know anything about each other for the information to be sent and received.
Terminology¶
Message - An information message which contains a message topic that indicates which message processor(s) will process it and a message body - array of parameters required for the processing, for example an entity id or a channel name. Messages are created and sent by a message producer and put to the "tail" of the message queue. When the message comes up, it is processed by a consumer using a message processor. Messages also contain a number of additional settings (see Message settings).
Message Queue - A FIFO queue that holds queue messages until they are processed. There can be one or more queues. If we use only one queue, it is much easier. If there are several queues, it is much more difficult but more flexible sometimes.
Consumer - A component which takes messages from the queue and processes them. It processes one message at a time: once one message has finished being processed, the next message follows. For each message, the consumer runs a message processor subscribed to the message topic (if one exists). If there are several processors subscribed to the same topic, they can be run in parallel (actually messages are sent via broker and if the broker sees that a message has several receivers, it clones the message to create an individual message for each receiver). There can be more than one consumer and they can work on different servers. It can be done to increase the performance. When implementing a message processor, a developer should remember that there can be several consumers working on different servers.
Message Processor - Processes the queue messages (i.e. contains a code that should run when a consumer processes a message with the specified topic).
Message Topic - An identifier that indicates which message processor should be executed for the message. One processor can subscribe to several topics. Also, there can be several processes subscribed to the same topic.
Job - A message processor can process a message directly or create a job. Jobs are created in the db and allow monitoring of the processes status, start and end time, interrupt processes. Also, if we split a process into a set of parallel processes, jobs allow monitoring and control of the whole set. See details in the Jobs section.
Structure¶
You can skip it if you are only going to use the component. The component is split into several layers:
Transport - The transport API provides a common way for programs to create, send, receive and read messages. Inspired by Java Message Service.
Router - An implementation of RecipientList pattern.
Consumption - the layer provides tools to simplify consumption of messages. It provides a cli command, a queue consumer, message processor and ways to extend it.
Client - provides a high level abstraction. It provides easy to use abstraction for producing and processing messages. It also reduces a need to configure a broker.
Flow¶
The client's message producer sends a message to a router message processor. It takes the message and search for real recipients who is interested in such a message. Then, It sends a copy of a message for all of them. Each target message processor takes its copy of the message and process it.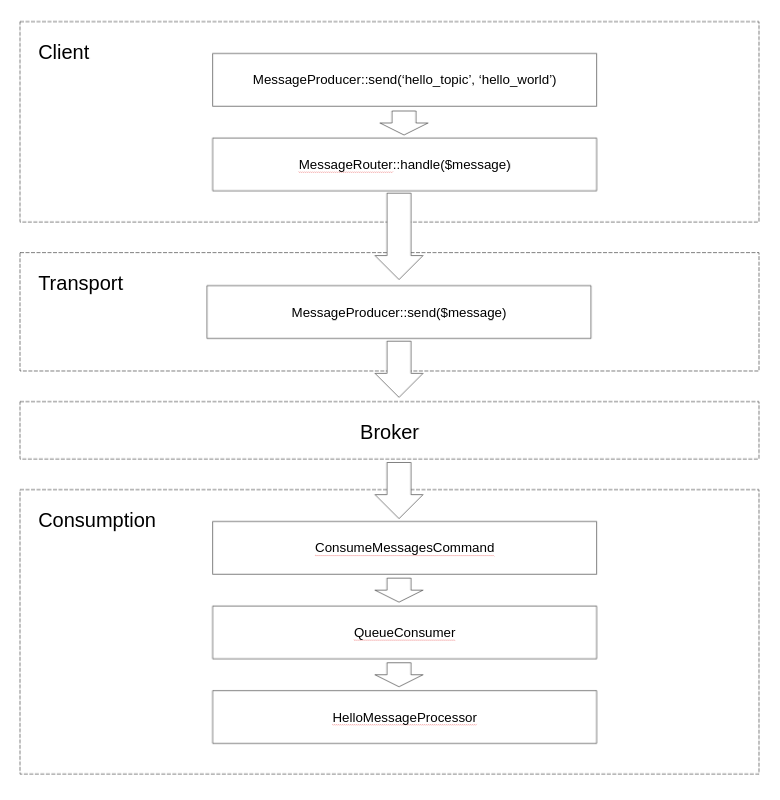 The message itself has headers and body and they change this way while traveling through the system: