Important
You are browsing the documentation for version 4.1 of OroCommerce, OroCRM and OroPlatform, which is no longer maintained. Read version 5.1 (the latest LTS version) of the Oro documentation to get up-to-date information.
See our Release Process documentation for more information on the currently supported and upcoming releases.

Opportunities by Lead Source¶
The Opportunities by Lead Source widget displays the breakdown of opportunities by lead sources in a form of a pie chart.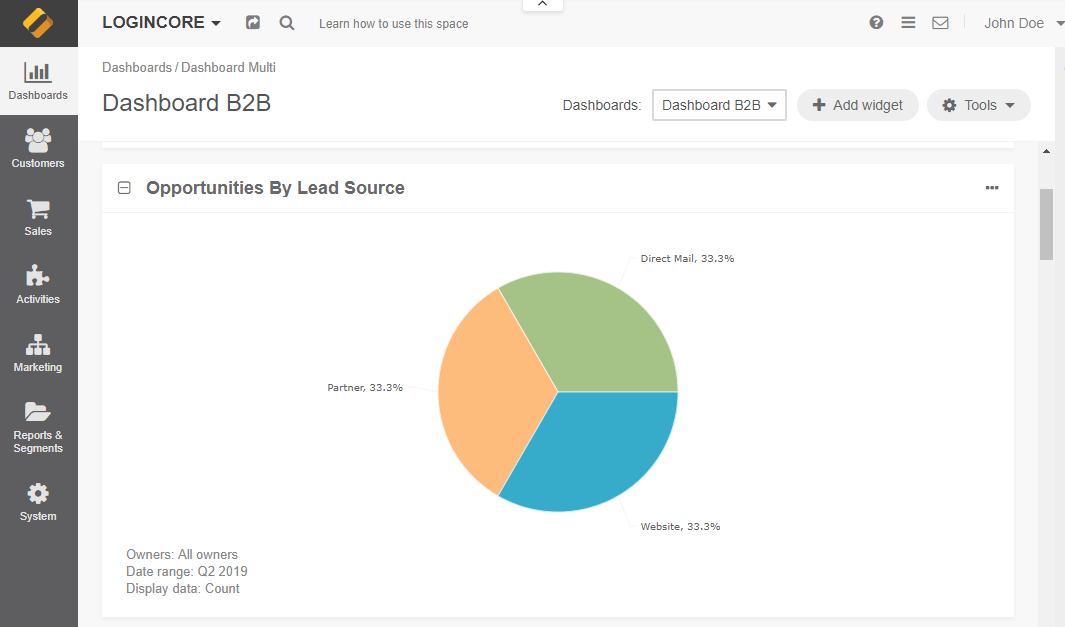 Note
For how to add widgets to the dashboard and manage them, see the relevant topics:
Opportunities by Lead Source Widget Configuration¶
You can adjust the following settings for the opportunities by lead source widget:
Widget title — the name displayed on the dashboard. To change the name, clear the Use Default check box and provide a new name.

Business unit — select the business unit to present statistics for.

Role — select the user's role (e.g. a sales manager, an administrator, a leads development rep, etc.) to see statistics for.

Owner — select the owner for the widget to see statistics for a certain user.

Date Range — the time for which the widget details are displayed.

Excluded sources — select what opportunity status the widget should not display (e.g. Closed Won).

Display data — choose which data to display on the chart. The count shows the number of opportunities in a particular status, and amount displays their total budget.