Important
You are browsing upcoming documentation for version 6.0 of OroCommerce, OroCRM, and OroPlatform, scheduled for release in 2024. Read version 5.1 (the latest LTS version) of the Oro documentation to get up-to-date information.
See our Release Process documentation for more information on the currently supported and upcoming releases.
Record Tables (Grids)¶
In Oro, the list of all available records of one type is aggregated on one page within a table (also called a grid). The data in the record tables can be filtered and saved as a new page, and the columns in the table can be customized to display only the required information. The page with all single-type records has a number of actions available as buttons on its top right. In addition, each item on the list has a number of actions available in the ellipsis (or the more options) menu at the end of its row. Actions at the top of the page and those within the ellipsis menu are all subject to the type of the records they are meant to apply to.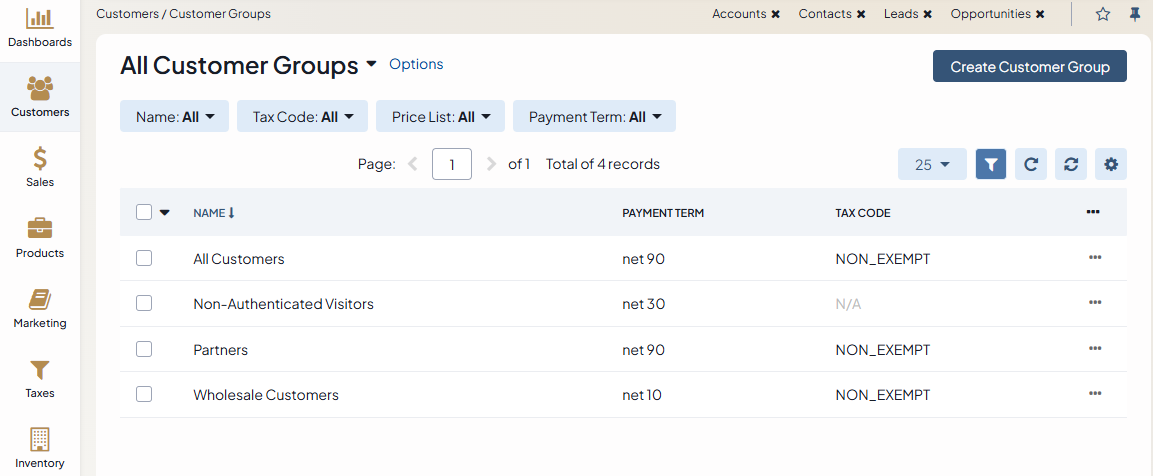 You can reach record tables in the following ways:
Via the main menu (e.g., Marketing > Marketing Lists).

Via the shortcuts menu.

By clicking the grid link on the page of a record (see the screenshot below).