Manage Customer Users in the Back-Office¶
Hint
This section is part of the Customer Management topic that provides a general understanding of accounts, contacts, customers, and customer hierarchy available in Oro applications.
Customer users act on behalf of the company (i.e., customers in Oro context) and may have a limited set of permissions in OroCommerce, depending on their function in the customer organization.
In the main menu, navigate to Customers > Customer Users for customer management.
In the Customer Users section, you can:
View, edit, and create new customer users.

Select their roles in OroCommerce to define their level of permissions and access to the actions and data in the OroCommerce storefront.

Manage customer user information (name, birthday, billing and shipping address, phone number, etc).

View requests for quotes, quotes, sales orders, and shopping lists created by the customer user.

View communication with the customer that happened using email, notes, or scheduled events.

View additional information attached to customer user.

Enable and disable the customer user.

Reset the customer user password.

Unlock the customer user locked out when the maximum number of login attempts is reached.

Add OAuth applications
Quick action buttons enable you to create a new address, order, and quote directly from the customer user view page. Click the button to open the required form for data input. The form can be displayed in a new browser tab, a popup dialog window, or replace the current page, depending on its system configuration.
Alternatively, click More Actions at the top right and select the entity to be created from the customer user view page.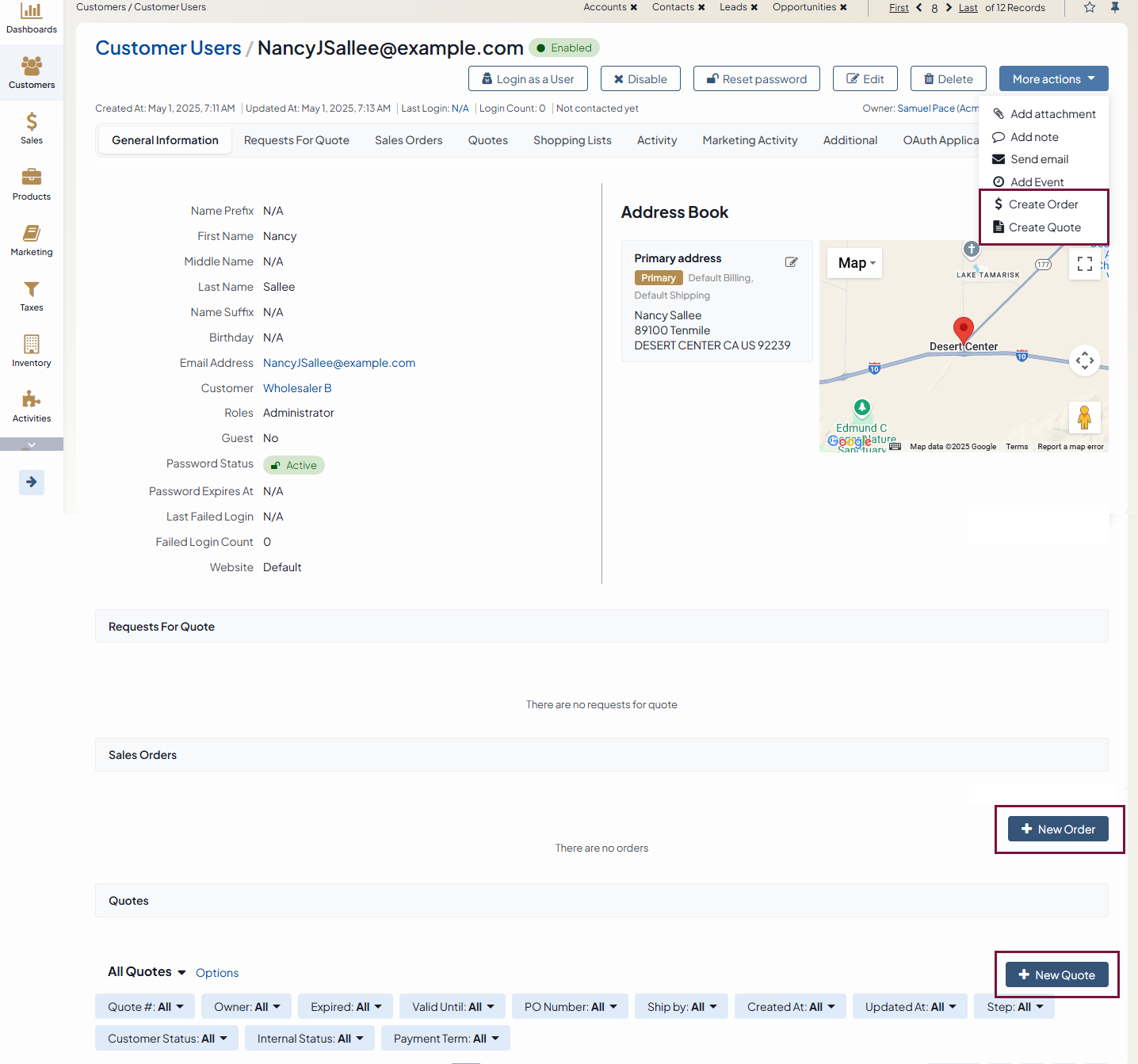 Customer Account Confirmation
Upon registration, a customer user receives an email confirmation request. Once they follow up with the requested action, their account is marked as confirmed.

Hover over the More Options menu to the right of the necessary customer user to perform the following actions:
Disable a customer user.

View customer user details. Alternatively, click on the item to open its details page.

Edit customer user details.

Delete existing customer users.